It's a fact. Any movie starring a squishy face is a good movie. And why not? These movies have classic plots, amazing Pug human bonding, and heart-touching warm feelings. What's there not to like?
Pugs always give us a warm fuzzy feeling inside.  Having Pugs in movies is a great idea! Their presence is full of fun, and one can never have enough Pugs. So, wouldn't it be great to have one Pug on your lap and the other on the big screen?
Many movies starring Pugs have become popular. But some have a more powerful impact on Pug lovers than others. Of course, some Pug movies make us skip a heartbeat. Today, we have narrowed down the list of our favorite Pug movies.
So heat your popcorns and grab a seat near your precious Pug. Have fun watching these Pug movies with your loved ones. (Cozy, right?)
Looking for a comedy tail featuring a squishy face? Look no further than Patrick!
This family-friendly British comedy film is our top pick. Well, the reason is pretty apparent. The Pug in the movie is not just a cameo. It's the main character named Patrick.
The story of the movie revolves around a young woman named Sarah. The woman's life is an utter mess. She was facing a rough time. And there were lots of ups and downs in her life.
Everything felt like a complete disaster. But one fine day, Patrick arrived in Sarah's life. The character Patrick is a Pug with a gorgeous and fun-loving personality. This chaos-loving, super-spoiled Pug was left by her grandmother. Eventually, the naughty little fellow saves the day.
The whole movie is about the magic only a Pug can bring in your life. The story is super cute. It's best for people looking for a cute rom-com love story.
We give this film four paws up!
The Secret Life of Pets (2016)
Love animated movies? Love Pugs? Love Pugs in movies? We got you!
The secret life of pets is a fun-filled family favorite animated movie. This computer-animated comedy story revolves around a dog named Max. Max is a beloved New York City dog. The fun-loving companion is filled with joy and loyalty.
Max belongs to terrier dog breeds. His whole life turn upside down when his owners bring home a stray pooch. The story is filled with adorable dog scenes. We bet you will laugh out loud!
The beauty of this film is that it has all kinds of animals. From a tiny bird to an alligator, they have it all.
But where is the Pug?
The Pug in the movie is called Mel. He is not only Max's friend but also his neighbor. Mel is a bit confused fellow who loves food. He is a wonderful representation of Pugs. Also, he is a hyperactive dog who hates squirrels.
This movie is great for fun and comedy lovers. It is rated PG. So it's a good movie for you to watch with your family. Don't forget to cuddle your Pug, baby!
The Adventures of Milo and Otis (1986) – a Classic Story!
Our next pick is a classic movie. Released in 1986, the story "The Adventure of Milo and Otis" is genuinely heartwarming.
This movie is about the adventure of a kitten and a Pug puppy. Both of them found themselves lost and away from their home in Japan.
The movie is full of adventures and obstacles. The companionship story of a kitten and a Pug puppy is super cute. The duo makes people think a Pug is what we need to overcome any obstacle. (Pugs are the best, right?)
This story is a true example of friendship and struggle. Both characters Milo and Otis, are just the best!
What's cuter than the friendship between a feline and a puppy?
A hidden gem indeed!
It is rated "G."
You ever wondered how it would be like to have Pugs in politics? Well, it will be a flat victory for the pup. All our votes will be in his favor. And honestly, who can compete with such adorableness?
Hands down. No one!
The next pick starting Pugs is a comedy-based political rivalry starring Will Ferrell and Zach Galifianakis. Both comedians fight for a seat in Congress.
Zach plays a character name Marty Huggins who owns two Pugs in the film. We can see Pugs, as Mittens and Poundcake, adding some great humor to this movie.
(Oh, sweet names! Now I am thinking of naming my pets after a delicious dessert.)
This movie has some unforgettable Pug jokes. There are plenty of laughs included. Even the promotional posters have starring Pugs in them.
We suggest you watch this movie with your Pugs. The campaign is rated R. This might not be a kid's friendly movie. So better keep the kids and puppies away for this one.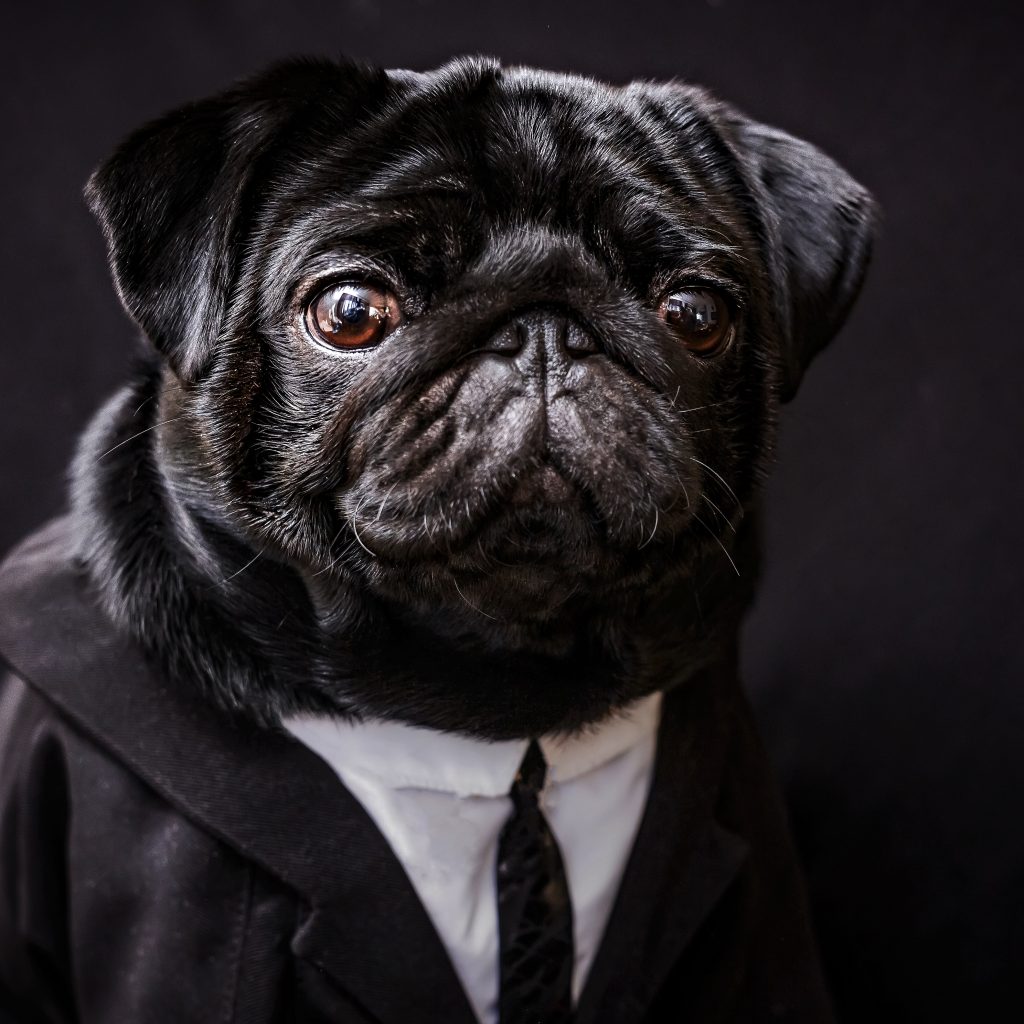 One word, "Classic!" 
No doubt this movie is unique in every respect. But for Pug lovers like us, frank is the hero.
We all have little talks with our adorable Pugs. And a talking Pug like frank is, of course, a dream come true. Frank is a well-dressed talking Pug who is starred in Men In Black 1 and 2.
This talking little fellow has appearances in both films. Frank also has numerous appearances in animated series and video games. The funny situations make it hard for you to control your laughter.
The character Frank is a serious crowd-pleaser. This movie is a great choice to brighten up your weekend.
Both of the sequences are rated PG-13.
The Nut Job 1 and 2 (a Criminal Pug)
Ok. Pugs do steal our hearts. But the Pug in this movie has a "different" kind of criminal record. The film documents a story about an exiled squirrel.
In this is an action-packed, funny film, a squirrel raids a nut store along with some of his friends. The story has established a fan base not just in kids but in adults as well.
Well, the nut store is right in front of the human bank. And some human robbers plan to rob the bank. That's how we meet our Pug lady in the movie "Precious."
With her bright red collar and friendly personality, she spices up our interest. But the twist is, precious is owned by one of the criminals.
Precious also has an appearance in Nut Job 2, where she falls for a Boston terrier.
The story is family-friendly. It's just the right combination of animation and adorableness. Pug lovers adore this story. We believe your kids will also love this movie.
Both sequences are rated PG.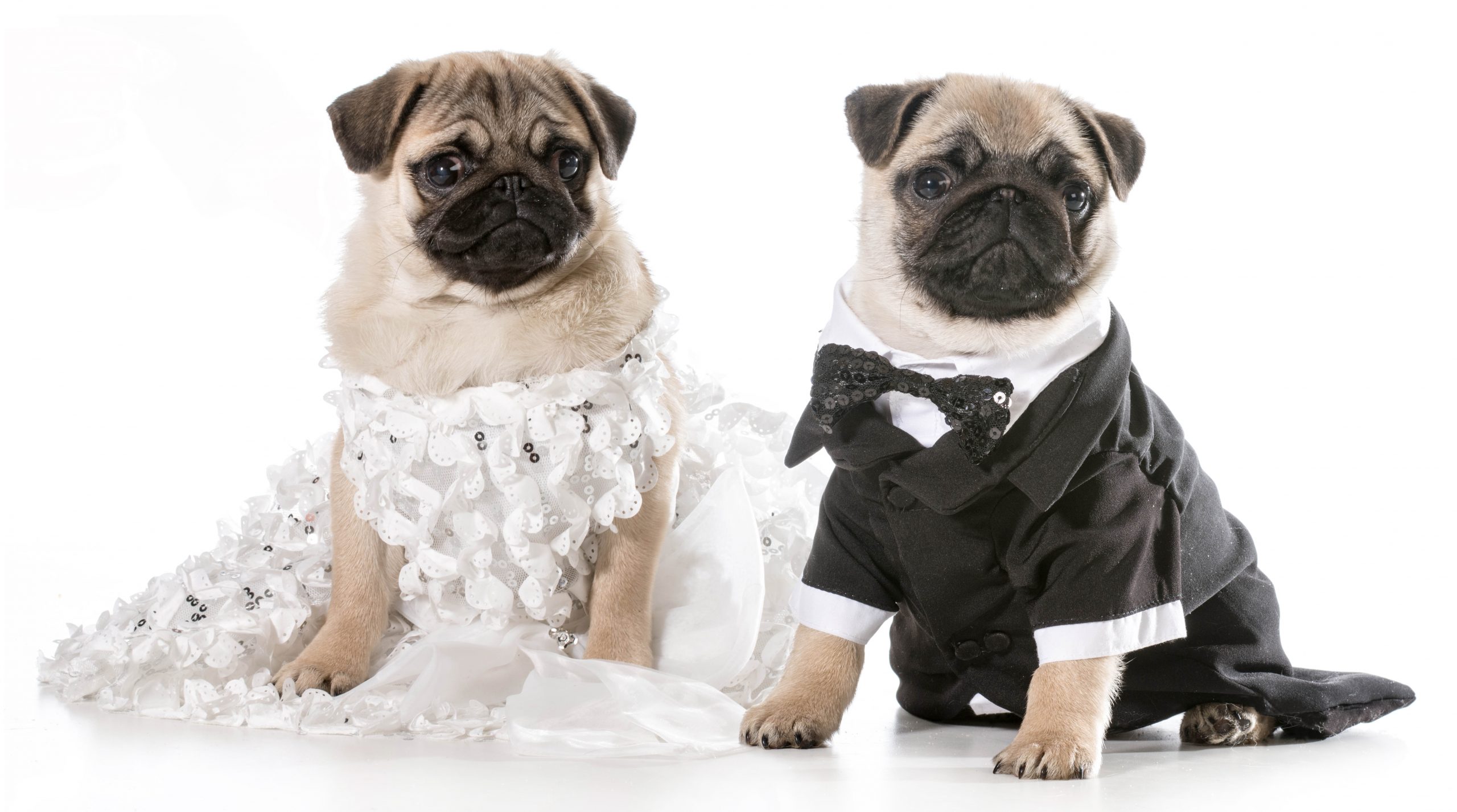 The movie tells the tale of a couple separated or, in other words, divorced. Things were pretty smooth until one day; they had to pretend like a couple for a family wedding.
The story might not be very amusing. But as true Pug lovers, we find ourselves a bit into this movie. The Big Wedding Features two precious Pugs. And this is what you need to brighten up any Pug lover's day.
Valentino the Last Emperor
Head-over-Heels obsessed with Pugs?
Lucky for you, we have the correct movie starring Pugs for you!
The story is about a famous fashion designer living like an Emperor, Valentino. But did you know the main character is also a Pug dad?
Now that seems interesting!
The movie is a documentary-style film. Here, you can see the fascinating life and career goals of Valentino. The story also includes his, not one but six, Pugs:
Milton
Maggie
Margot
Monty
Molly
And Maude.
Watch this movie and think if you are spoiling your Pug, baby! 😉
All Pugs in this movie have their own private Butler. Yes, you heard me right.
The six Pugs live a life full of luxury. They have their private jets. Pugs crash photoshoots and run around to live life to its fullest. And that, I believe, is the right way to take care of these Royal babies!
Yes, they deserve it, don't they?
The fascinating film is rated PG-13.
To the Pug lovers out there, it's worth a watch.
Well, well, well! Look what we got here!
Disney classic featuring Percy, the Pug!
This movie is a childhood favorite of many. The story is about the romance between an English soldier and the daughter of a chief.
The classic movie gives us Percy, a posh dog from England. The character started as an overly spoiled Pug. But by the end of the movie, we see a heartwarming change of attitude.
Percy has a substantial impact on the whole story. The adorable fella even has his bathtub. We must say, the friendship between Pocahontas and Percy is genuinely magical.
We need such bonds with our Pugs. These babies are pure love.❤
This movie is a timeless classic. Plus, Percy is the first Pug featured in Disney movies.
This Pug character is also starred in Pocahontas 2. Both sequences are Pug-friendly, family-friendly.
It's rated PG.
Breaking all the rules is more like a breakup story. The story is about a man who publishes a breakup book for men.
The lead character Jamie Foxx is left with a Pug Rufus. Rufus is his ex-girlfriend's Pug. The pet is seen doing stuff like peeing indoor, drinking liquor, and farting.
Breaking all the rules is rated PG 13.
Kingsman the Secret Service (2014)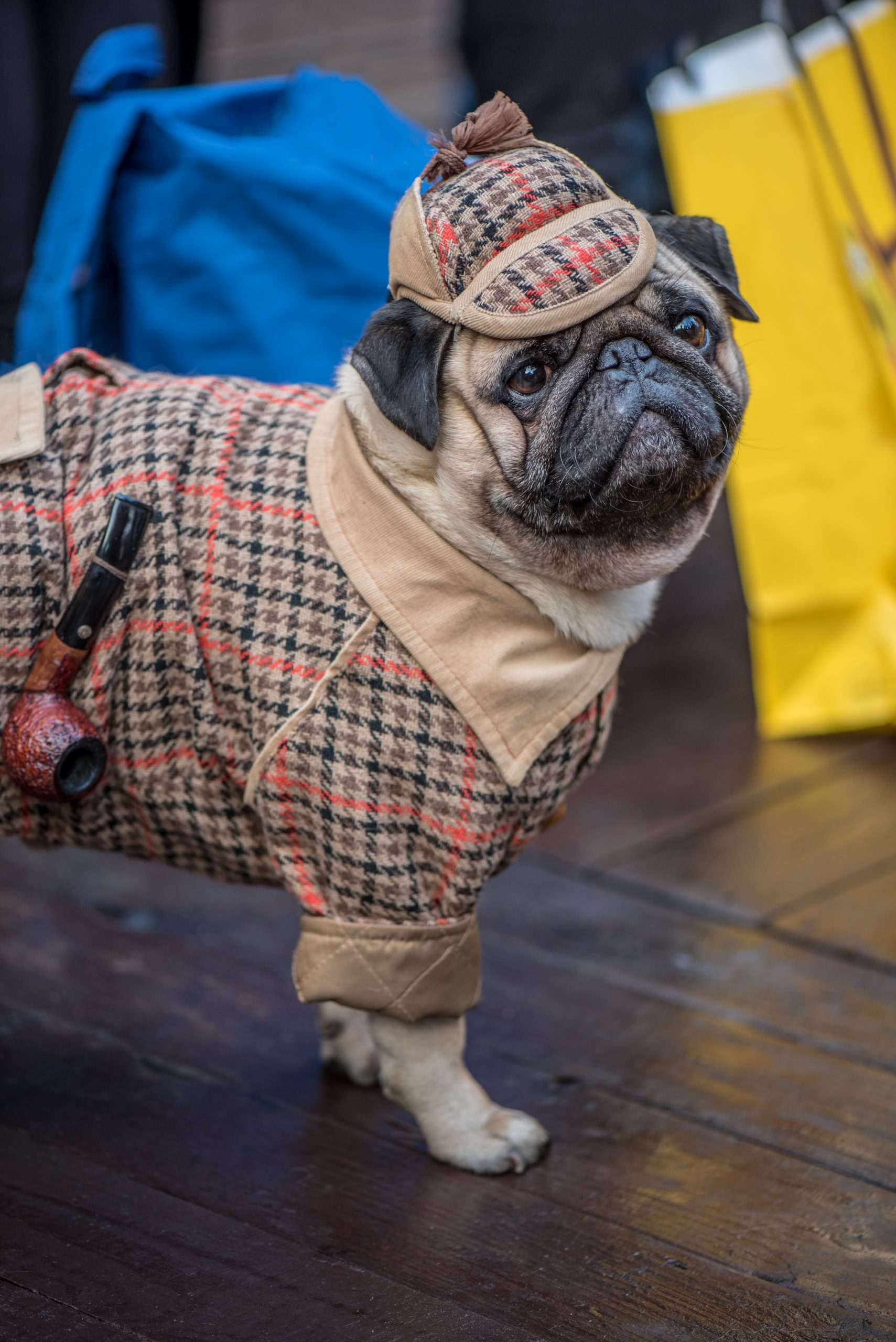 Spy organizations and Pugs in action, what a duo!
Kingsman is a story of a spy organization. The twist is the organization recruits a street kid into their training program. This famous movie is for action lovers.
The recruiting program is super competitive. Its recruiters are made to pick a puppy. Yes, you know what happened next. The talented street kid Egssy picks a Pug called Jack Bauer. Egssy thinks it's a bulldog.
Jack Bauer, or JB for short, went viral. The movie star Pug also attended the premiere party of Kingsman 2.
We bet it will be a memorable experience for you. Of course, our four-legged celebrities are not less than anyone else. This is the movie you couldn't resist sharing with your loved ones.
This action movie is rated R.
Released in 1965, the great race is a comedy film. The theme of the movie is about a great landrace from New York City to Paris.
Throughout the movie, we can see multiple scenes with Pugs in them. Unfortunately, there is not much information available about the names of staring Pugs. 
Are you into Netflix's popular series?
Everyone is talking about Netflix's new famous series, The Crown. How can we Pug lovers ignore the appearance of some cute royal pups in there?
The character of Edward VIII is deeply in love with his Pugs. We won't say it's his fault. Who can resist falling in love with this face?
You can see some adorable Pug moments throughout the series. Although the story is not about Pugs, we find our way to relate!
A few glimpses of Edward and his wife hosting a birthday party for their Pug are also caught.
I hope to see more related moments on this series soon.
Why are Pugs stealing the spotlight in movies?
Pugs are getting popular in the fashion and entertainment industry. Their unique charm makes them irresistible. We adore all dogs. But these babies occupy a special spot in our hearts.
Pugs can adopt any lifestyle. They are an excellent fit for any household. It's their grace and elegance that make them an excellent match for the big screen.
Pugs in Movies – Why they're the Best:
The tiny flat nose makes it hard to breathe without gasping. Although this is not a good thing, it melts our hearts.
Their snorting and funny noises amuse people around them. Your puppy doesn't even have to ask for attention. His personality automatically catches the attention.
The strange but cute sounds make everyone say, "Aww."
All Pugs, including Pugs in movies, have a royal personality with a great sense of humor. They can create fun out of anything in life. Whether they are eating, running around, or playing, they easily grab your attention. Their mischievous nature is something one can pass over.
Pugs have this unique charm that makes them great for the entertainment industry. They make us laugh with their performance in various television shows and movies.
Pugs are a Man's Best Friend
There is no second thought that Pugs are amazing companions. They crave attention and love to walk in your footsteps.
Once you own a Pug, you will never settle on anything else. It's hard to live without Pugs. This fur baby has the quality of becoming an essential part of our lives.
They love to be treated as family members and humans. Pugs are a ray of entertainment for people around them.
These companions are adaptable to any lifestyle. Their qualities and close relationship with humans make them ideal for entertainment programs.
Pugs are Friendly with Children
Pugs are very affectionate to young children. This pooch believes the children are his siblings. You will notice yourself; he loves to play with kids.
Children and Pugs make an excellent pair for advertising campaigns and film roles.
Pugs in movies are often labeled as dumb. This is not the truth. Pugs are curious and smart companions. They love to explore around and learn new things.
Something big is packed inside that tiny body.
Just like many of us, food is the ultimate pleasure for them as well. It is also the reason for their little Pug adventures. They are pretty smart to determine if there is a reward for working.
Pugs are smart enough to know why they should work for free. This makes the training process way easier.
Give him the treat!
Pug owners will agree with us. No one will listen to you the way a Pug does. You will notice the fellow tilting its head as if he understands what you are saying. And that's super cute. Tell your troubles to a Pug. He will never tell anyone.
Pugs not only understand but do follow the instructions. Working with them on a film set is cute and fun. They are great at following instructions. Pugs are observers and quick learners.
Another thing that makes them perfect for the entertainment world is, they don't bite. Whether it's a UPS man working on the set or a tinny kitten, they love it all.
Cute, smart, friendly, and funny! Pugs can grab everyone's attention. This makes Pugs a delightful part of the film industry. We look forward to watching our snuggle buddies on the screen. Pugs in movies and watching movies with your Pug is the best!