What You Need to Know Before You Get a Pug Puppy
Who doesn't want to get a Pug puppy?  Everyone loves Pug puppies.  They are so adorable and fun! 
Maybe you are thinking of getting one.  But you have to make sure a Pug puppy is right for you.  You can do that by reading this article to learn more about Pugs. 
First, you have to know what Pugs are really like.  Then, you can determine if this breed suits you. 
This section will cover:
Appearance

Personality

Common health problems
Do you know what a Pug will look like when fully grown?  Here's a list of a Pug's physical traits. 
Pugs are toy dogs, so they are small. 

When full-grown, they are 10-11 inches tall and 14-18 pounds heavy. 

Their sturdy build makes them the heftiest of the toy breeds.

Pugs have large, round heads with short muzzles. 

Their foreheads are covered in wrinkles.

Pugs have protruding eyes and curly tails.

This breed has a short, double coat.  Coat colors include:




Apricot

Fawn

Silver

Black

Brindle (Rare and somewhat controversial)

All coat colors are accompanied by a black face and ears.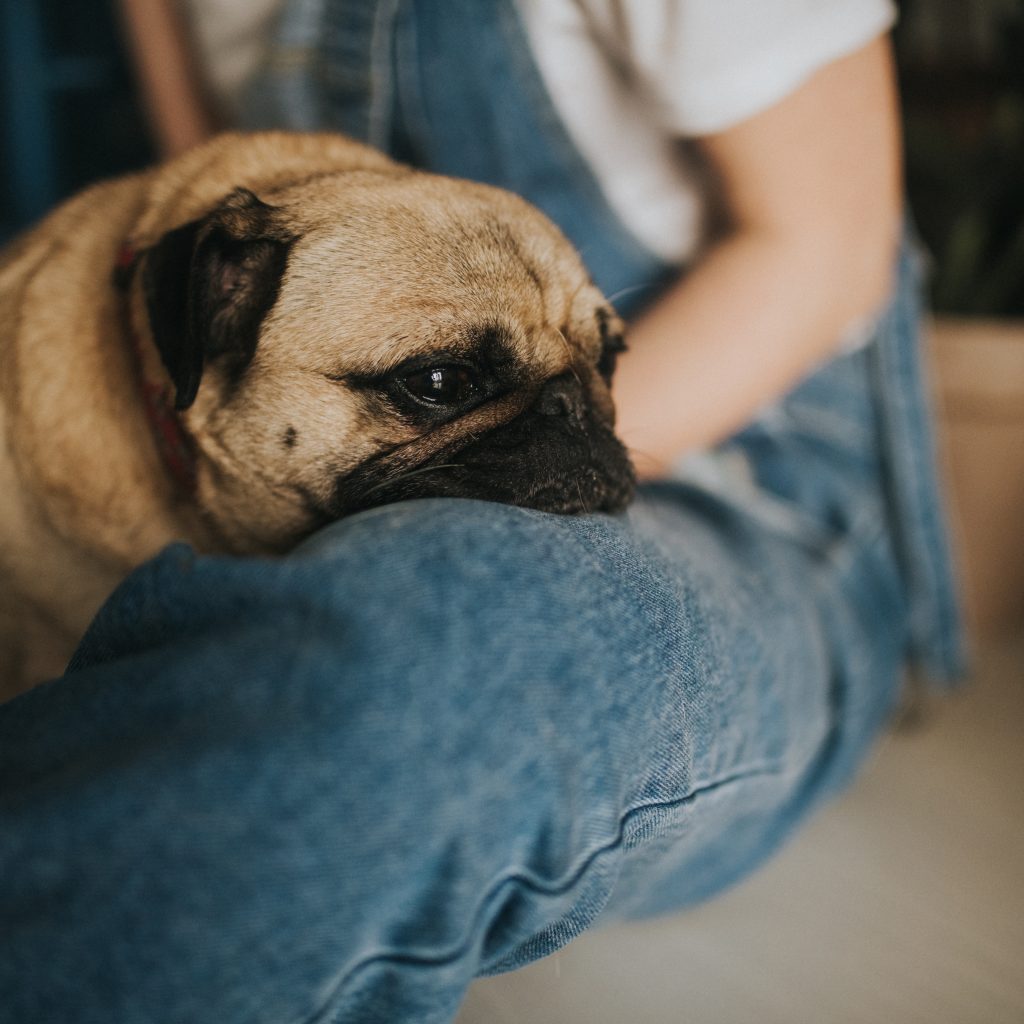 Far more important than looks is a Pug's personality.  This breed is pretty easy going. 
Pugs typically don't bark, dig, or chew excessively.  However, a Pug puppy will probably chew more when they are little.  
Pugs normally get along well with other canines.  And they love human companionship.
For Pugs, nothing beats snuggling with a beloved human.  They are definitely lap dogs!
In fact, Pugs are loyal pups.  For this, they've earned the nickname "Velcro" Pugs.  So, don't be surprised when your Pug follows you around.  
Many Pugs are great family dogs because they are good with kids.  If you have kids, just be sure to teach them how to interact with your Pug.  
Pugs love to eat.  Unfortunately, this can easily lead to weight gain.    
Pugs also have a reputation for being stubborn.  But that's okay.  Their friendly nature more than makes up for it. 
It's important to realize that Pugs can't be very active.  If you are athletic and want a dog that can keep up, you should choose another breed.
But if you like to cuddle on the couch with your pooch, a Pug puppy would be perfect for you!
Common Health Issues
Can you deal with the health issues that are most likely to plague Pugs? It's no guarantee that they will arise.  But you must be prepared in case they do. 
Find out what those issues are by reading the list below.
Eyes – Pug's may suffer from dry eye, eyelash and eyelid disorders, corneal ulcers, injuries, and infection. 
Skin – Pugs are prone to demodex mites, skin infections, and irritated skin folds.
Brachycephalic Syndrome (BAOS) – This condition makes breathing difficult.  It's caused by an elongated soft palate and narrowed nostrils.  Surgery is a possible treatment option. 
Heart Disease – Mitral valve disease tends to plague small dogs.  Symptoms include coughing and fatigue.  This condition can be managed with proper treatment.
Hip Dysplasia – Abnormal hip development leads to pain, arthritis, and difficulty walking.  Surgery, medicine, and weight maintenance can bring some relief. 
Overheating – Pugs can easily become overheated because of their short noses.  Air conditioning is required for Pugs that live in hot climates.
Obesity – Pugs like to eat.  But they don't exercise much.  You can guess where that leads.  Following a healthy diet and exercise plan is crucial for this breed.   
A healthy Pug will live for about 12-15 years. 
How to Care for your Pug Puppy
If you like what you've read so far, great! Now, let's make sure you can meet your Pug's needs.
Read this section to learn how to care for a Pug.
Feeding
Like we said earlier, Pugs love eating. It can be easy to overfeed this breed.
But obesity can cause or complicate the following health issues:
Arthritis

Diabetes

High blood pressure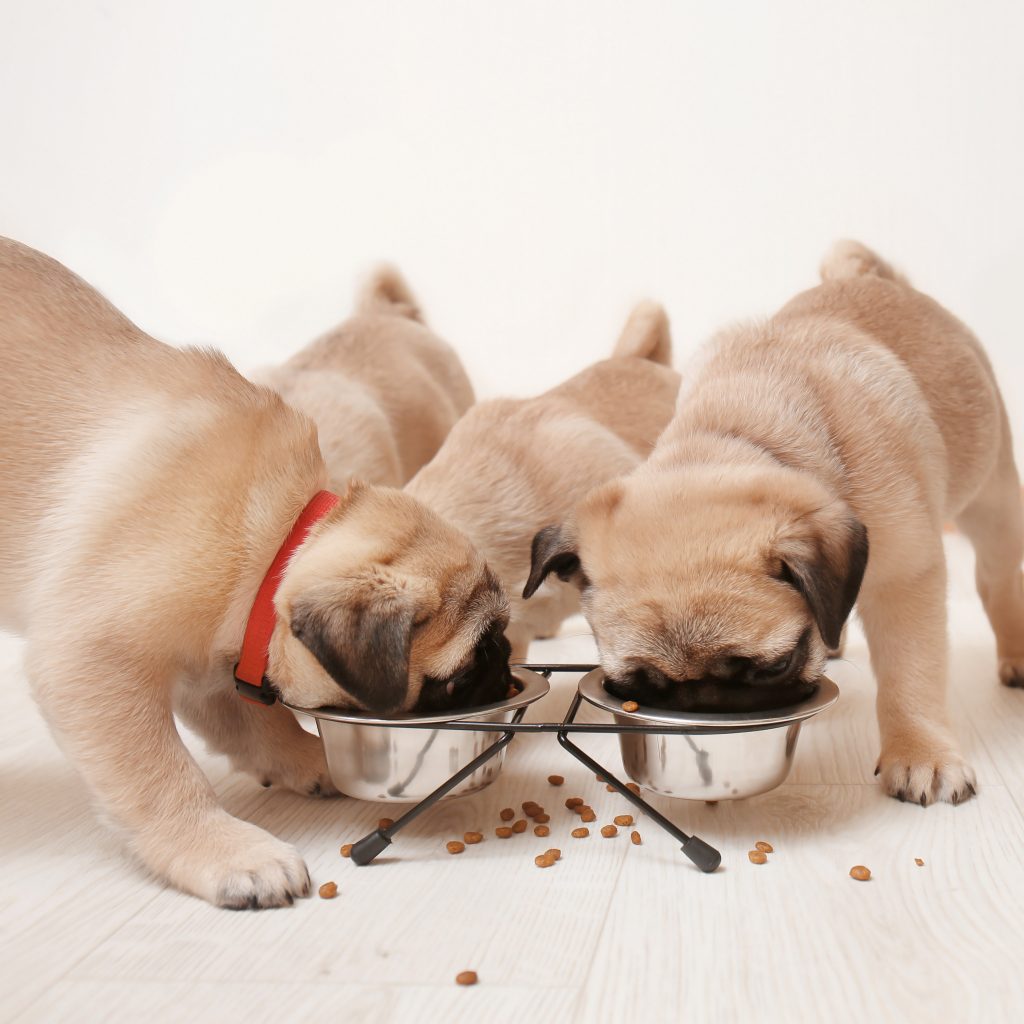 Dog food brands typically display recommended portion sizes on the can or bag.  Refer to these suggestions when determining how much to feed your Pug puppy. 
You should also speak with your veterinarian.  The two of you can work together to keep your Pug at a healthy weight.
Nutrition is just as important as portion sizes.  Your veterinarian can make sure your Pug's diet is nutritionally balanced.
At first, your Pug will need puppy food.  As your Pug ages, you will switch over to an adult dog food.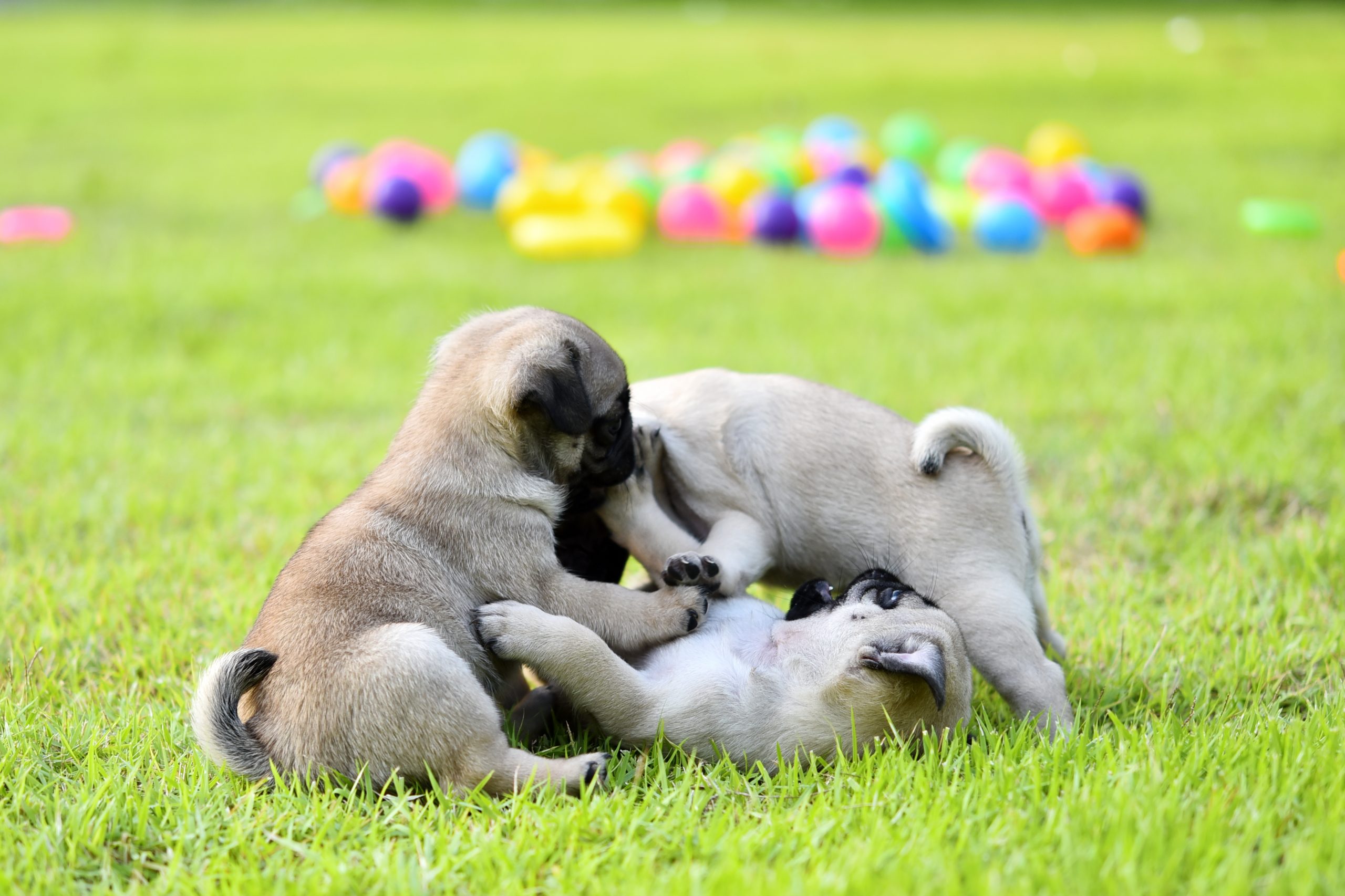 Pugs aren't the most active dogs.  But they still need to exercise.
Exercise your Pug every day.  But remember, Pugs can get overheated.  Plus, their narrow nasal passages make it hard for them to breathe.
Those two factors combined complicates exercising your Pug.  It could even become dangerous if you aren't careful.
Here are some exercise tips to follow:
Don't push your Pug puppy too much.

Don't exercise when it's too hot.

Give your Pug puppy a break every 15 minutes.

Plan two short sessions instead of one longer session.

Go on a moderately paced walk.

Take an easy hike.

Play a game of fetch.

Play hide and seek.
Pugs are stubborn.  But they are motivated by food.  Using treats as rewards will spur your puppy to learn more quickly.
And Pugs are pretty smart. So, you shouldn't have too much trouble training your puppy.
Stick to a regular training routine.  Short, frequent sessions produce the best results. 
Carefully avoid feeding too many treats while training.  Pugs have a tendency to gain weight.  If necessary, you could cut some of the treats in half. 
Here is what you need to teach your Pug puppy:
Obedience training

House training

Leash training

How to interact with other dogs and animals

How to interact with other humans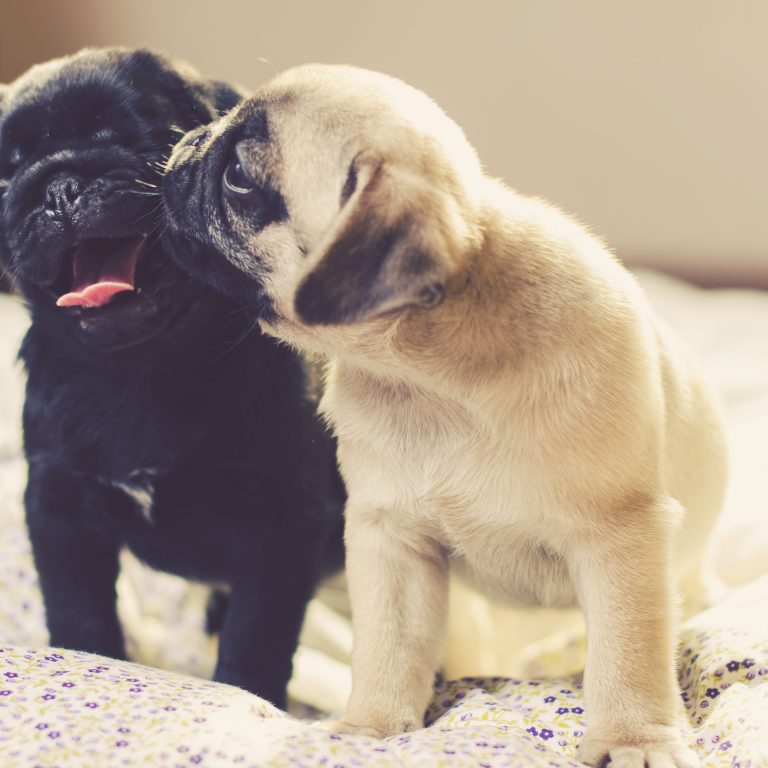 Pugs shed quite a bit.  That's why your Pug puppy will need weekly grooming sessions.
Your Pug's coat doesn't require a professional groomer's touch.  All it needs is a rubber grooming mitt or a medium bristle brush.  That means you can do the job yourself.
A Pug's coat is pretty easy to manage.  But your pup's facial wrinkles will need daily cleaning.
This daily cleaning prevents:
Itching

Irritation

Skin infections
You will also need to clean your Pug's ears and brush your Pug's teeth.   
Don't forget to trim your Pug's nails.  This part might require a professional if your Pug doesn't like it. 
So, you know what a Pug is like.  And you also know how to care for one.
Still want a Pug?  Fantastic!
But can you afford one?  That depends on your budget and where you purchase your pup.
Remember, the initial purchase price isn't the only expense.  You must take every other cost into account too.
This includes:
Food

Veterinary bills

Grooming supplies

Food and water bowls

Treats

Toys

Leash

Collar

Puppy training classes

And maybe more!
So, make sure you can cover those costs.  But in this article, we are only looking at the average price of Pug puppies.
The most expensive puppies are $1,900-$6,000.  These puppies are show-quality.  They come from a top-notch line.  
Other breeders sell their puppies for $600-$1,500.  They aren't show-quality but they do have papers.
If those prices are too high, you can adopt a Pug.  Rescued puppies cost $350-$550.  With this option, you will save money and a Pug puppy!
The price of a Pug puppy also depends on several other factors, such as:
Location – Price can vary by country, state, city, or even region.  And traveling long distances to pick up your puppy adds to this expense.
Breeder – Different breeders charge different prices.  Better breeders typically charge more, while puppy mills are cheap.  The higher price is worth it. You don't want to support puppy mills.
Coat Color – AKC recognized Pug colors include fawn and black.  But other colors do exist and affect a Pug's price.  The rare coat colors are more expensive.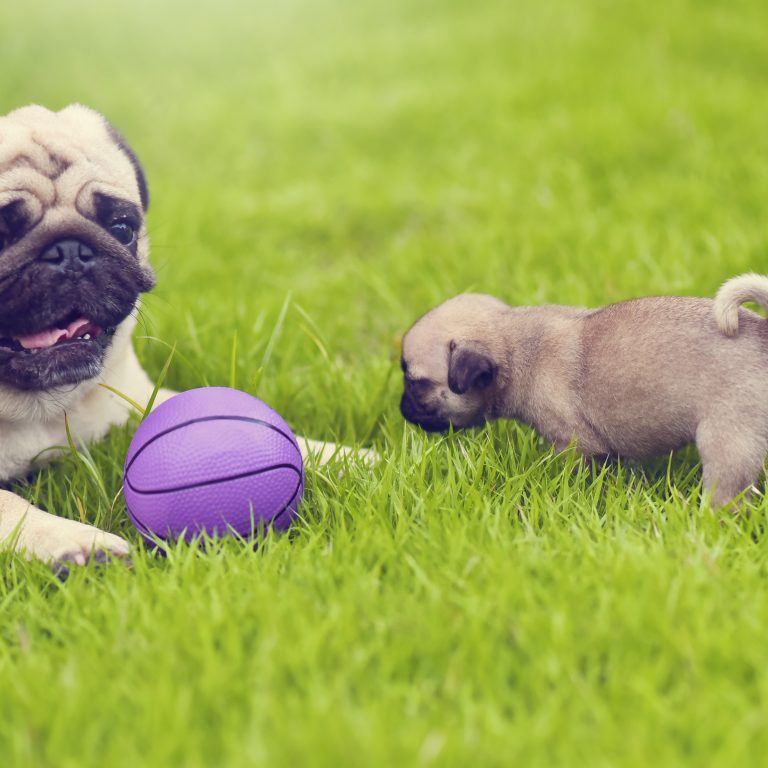 Where to Find a Pug Puppy
If you made it this far, you must still want a Pug puppy.  But where do you find one?
Read this section to learn! 
First, you have to decide between a rescue and a breeder.  You already know the difference in cost. But how else do these two options differ?
Let's find out. 
When buying from a breeder, you know the puppy's parents.  You also know how the breeder prepared the Pug puppy for a new home.
This gives you a pretty accurate idea of what you are getting.
But not all breeders are ethical.  That's why you have to carefully choose the right one.  You don't want to end up with a puppy mill Pug puppy.  
Here's how to find breeders:
Ask your Pug-loving friends for recommendations.
Take a look at the Pug Dog Club of America website.
Look up your own, local Pug club.
Check out the AKC marketplace.
Join online forums and ask for recommendations.
Look for breeders on social media.
Once you've found them, reach out to one of the breeders.  Make an appointment to meet. 
The breeder should let you meet the Pug's parents.  While there, take note of the location's conditions. 
Are they good for breeding Pug puppies?  Is it clean?  Is it puppy-proofed?   
You should also ask plenty of questions.  It's a bad sign if the breeder hesitates to answer any of them. 
Here are a few questions to ask:
Are the parent's health tested?  (Healthy parents are more likely to produce healthy puppies.) 

Do you have the parent's records?

How many years of experience do you have breeding Pug puppies?  (The more experienced the breeder is, the more knowledge the breeder has.) 

Do you socialize the puppies before they go home?  

When can I bring my puppy home?  (Puppies should stay with their mother and littermates for at least eight weeks.)

Do you have references?

Can I talk to your veterinarian?

Do you provide resources about Pug puppy care?

Will you keep in touch with me?  (Checking up on the puppies is evidence of genuine care.)

What are your payment options?  (Check or credit card is best.)

Do you have a welcome back program?  (This allows you to bring the puppy back if absolutely necessary.)   
Be wary if you notice the following:
A breeder who doesn't ask you any questions.  (This breeder is too eager to sell Pug puppies to anyone.) 

Refusal to talk on the phone.  (Emails aren't good enough.  You need to have a verbal conversation with the breeder.)

Duplicate photos on the breeder's website.  (You can check this out by doing a reverse image search.) 

An offer to ship the puppies.  (Responsible breeders will require buyers to pick their Pug puppy up.)

Refusing your request to visit the breeder's location.

No welcome back program. 

Not associated with any breed or kennel clubs.

Sells more than one breed.

Does not provide sufficient information regarding the puppy's parents.      

The list above contains warning signs of unethical breeders. Run away from them and find another, more responsible breeder.
Adopting a Pug puppy is often a gamble.  Why?  Because many rescue pups have unknown backgrounds and parents.
But most rescue owners would tell you it's worth it.  Rescued animals are often the most grateful.
There is one caveat, though.  Your local shelter might not have any Pug puppies up for adoption. 
You could wait for one. But there is no guarantee that one will be brought to the shelter.
Breed rescues are a more reliable option. This type of organization focuses on rescuing one specific breed.
Reach out to a Pug rescue to see if they have a Pug puppy.  They might not, but you can always keep checking.
How to Choose Your Pug Puppy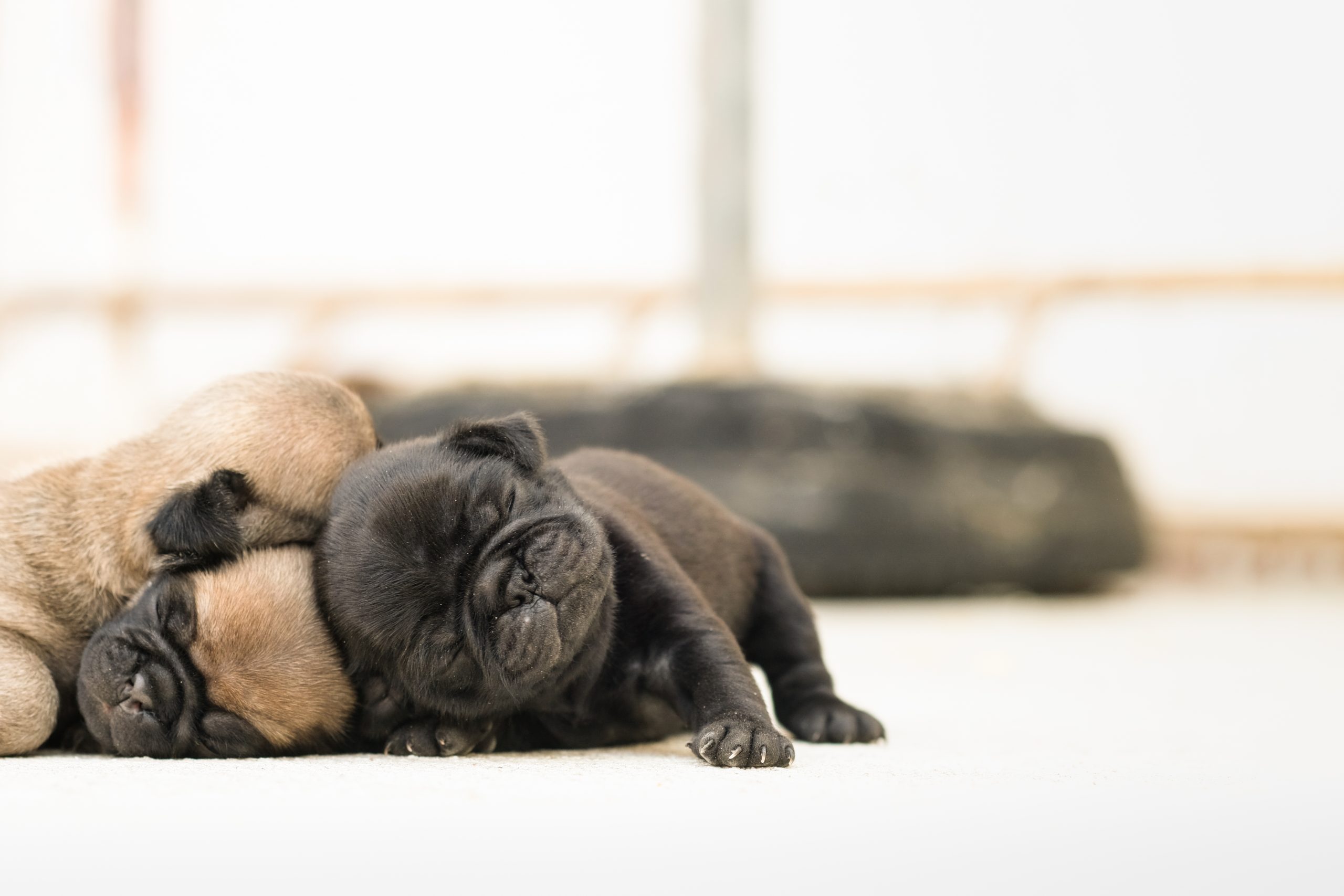 Choosing the right puppy is an extremely important decision.   You don't want to get it wrong! 
Learn how to make that decision by reading this section. 
Color
Coat color doesn't influence a Pug's personality.  But you might prefer one color over another.  Or you might want to participate in dog shows.
The American Kennel Club (AKC) only allows the following colors in the show ring:
If you aren't planning on showing, you have more options. 
Other coat colors include:
Some non-standard colors can be registered with the AKC.  The very rare brindle color can't.
Some say a brindle Pug can't be a purebred.  But
others, like How to Train Your Dog, say, "Pugs have a long history and there is still a small percentage of animals with genetic links to their brindled ancestors."
Whatever you believe, this coat color is hard to find.  But go ahead and try if your heart's set on it.
Keep in mind that coat color often changes from puppyhood to adulthood.  It might get just a bit darker or lighter.  This difference won't be huge.    
Should you get a little boy or girl Pug puppy?  Take a look at the differences between the two genders.
Unspayed female dogs go into heat about 2 times a year. 

Spaying is more expensive than neutering.

Unspayed Pugs bleed and are pursued by male dogs.

Female Pugs shed heavily after each heat cycle.

Female Pugs tend to learn more quickly.

Female Pugs often live longer.
Unneutered males hump everything in sight, which can be awkward.

Neutering is less expensive than spaying.

Males are more obstinate during their early years.

Once they get a bit older, males are more easy-going.

Males tend to have slightly shorter life spans.
Now you know which color and gender are best for you.  Next, it's time to settle on a puppy. 
Bright eyes (No tears, squinting, or glazed film)

Cool, damp nose (Not warm)

Pink gums (Not pale or inflamed)

Clean ears (No dirt or excessive wax)

Pleasantly plump (Not too skinny but also not too fat)

Clean coat (No excess dirt or wax)

Normal breathing (No rattling, rasping, or breathing through the mouth)

Normal gait (No limping or clicking hips)
A Pug puppy that pass the health test should be further evaluated.  This is when you take note of their personalities. 
You should pick a Pug puppy that readily interacts with you.  But you don't necessarily want a puppy that initiates that interaction.
Why not?  Because bold puppies are often more difficult to train.  Quiet, calm puppies are best suited for most families and lifestyles. 
However, puppies that are too quiet might be sick or shy.  Taking home a sick puppy can end in heartbreak.  And shy puppies have a hard time adjusting to a new home.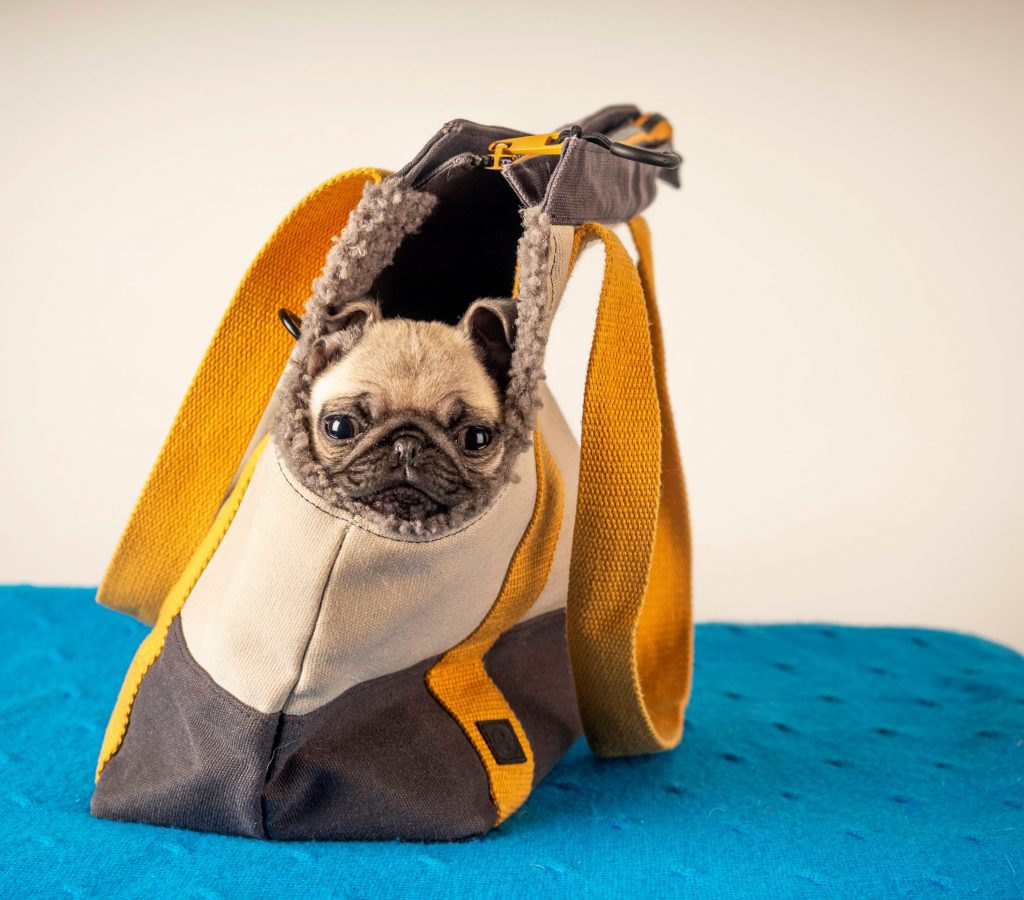 Compare each puppy you are considering by giving them a toy to play with.
Some Pug puppies will hog the toy.  Other puppies will be more willing to share.  And some will timidly shy away.
Pick a calm puppy that isn't afraid to play with its littermates.
Remember, this decision is incredibly important.  The puppy you choose will be your companion for the next 12-15 years.
So, take your time.  And if you don't find the right one, look for a different litter.  It's better to wait than to rush into the wrong decision.
Pug puppies bring so much joy to their owners' lives.  Once you've got your fur baby home, get ready to enjoy many wonderful years with your pooch!