Why do Pug Owners Dress their Pugs in Costumes?
Pugs are a beautiful addition to our lives. Their wrinkly little faces, cuteness, and expressive natures are enough to make any day a thousand times better.
A Pug's comical look and goofiness can make anyone fall for him. But have you ever noticed Pugs in costumes all dressed up for a big day?
Well, now you have!
Pugs are adorable in every regard. But trust us, nothing is more entertaining than a Pug in a Pug costume. The little pooch not only looks super cute but super cool as well.
Pug costumes have become very famous with Pug lovers. The cute furballs also seem to enjoy this attention from their favorite human. That's why most Pugs love to dress up in pretty costumes to make you happy. Although not every cutie likes to put on some accessories, most of them feel glad.
Whether funny or cute, Pug in costumes always look good. But sadly, not every environment is perfect to style your Pug in a new dress.
This guideline will help you know when you should or shouldn't dress your Pugs in costumes.
Keep on reading to learn about your Pug measurement too!
Why do Owners Dress Up Pugs in Costumes?
Yes. Pugs are real cuties. But there is one thing that is even cuter than a Pug. It's a Pug in Pug costumes.
Right?
Some owners like to dress up their Pugs to protect against extreme weather conditions. Other's desire to show off their baby's fashionista looks on social media. But, no matter what the motivation is, these cuties always look amazing.
Protection from Extreme Weather
Pugs are not "hot dogs." It means they are not a fan of extreme weather conditions. Their bodies cannot bear the heat. So it's better to cover your pal from the hot sun while going out. Your pup will be thankful for the shade.
The same goes for the winters. No doubt Pugs have built-in coats. Still, with the drop in temperatures, your Pug might need some extra warmth. In addition, freezing winter can harm your Pug's health. So don't hesitate to put trendy apparel on your furball this winter.
It is a well-known fact that Pugs thrive on attention. So whether this attention is from their Pug parent or adoring fans, they are likely to enjoy it anyways.
You can dress up your Pug to cheer up any social post. Share your Pug's heart-melting images on social media. You'll brighten the day of friends and followers. Honestly, who could ignore the cutest little fashion model showcasing his looks?
Pugs love to spend every moment with us. They want to be a part of everything we do. So if you are dressing up for Halloween, Christmas, or any holiday, your Pug baby would likely like to dress up too. So you better grab a comfortable costume for your Pug as well.
Believe us; the smushy-faced pal will look super pretty.  A Pug in a costume is irrestistible!
How to Find the Perfect Costume for your Pug?
You might be interested in getting a nice costume for your Pug pal. But how to know an accessory or costume will be the right fit for your Pug?
Accurate body measurements are essential to choosing a good Pug costume. However, some other factors are equally necessary to ensure your Pug's comfort.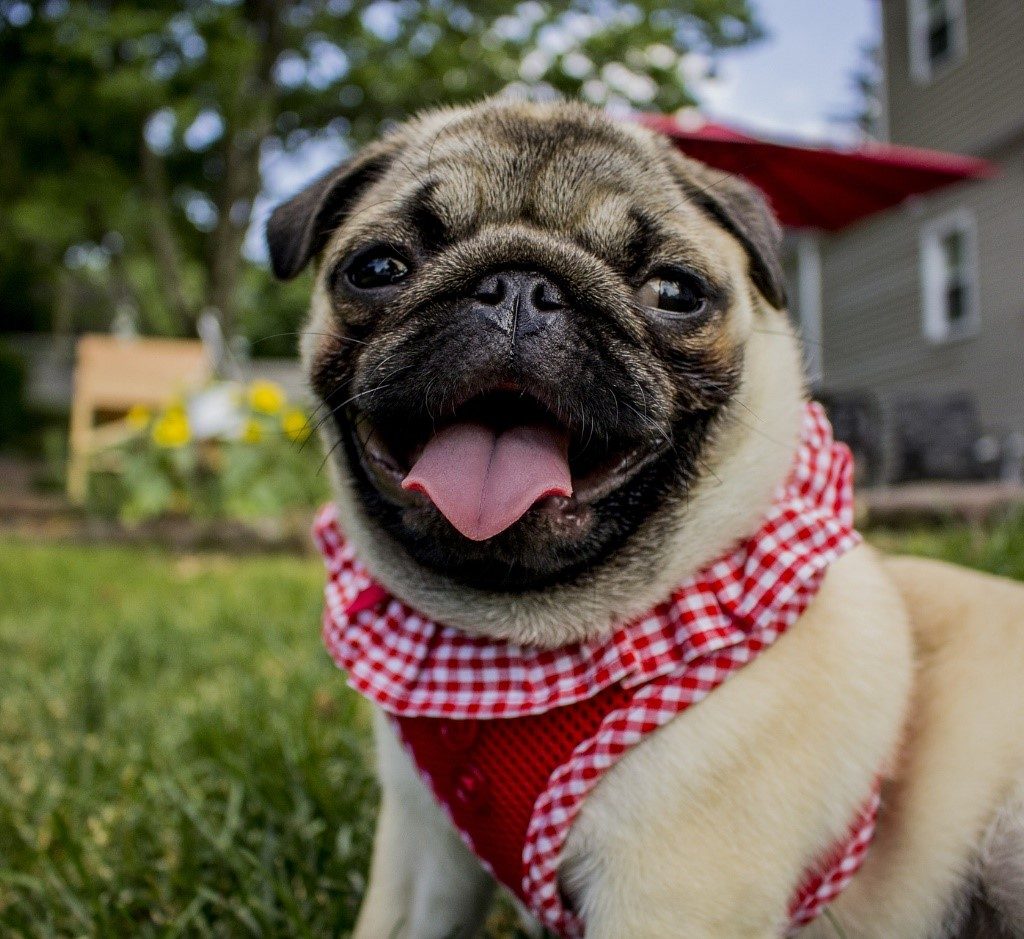 It is always helpful to think about the material used in making a Pug costume. Always choose the most comfortable fabric. Don't just go for appearance. Think about the cons as well.
Here are some guidelines for choosing the best Pug costume:
Cotton is comfy but can take a while to dry in winter.

Wool is warm but can cause itchiness.

Heavy costumes main look good but can hinder a Pug's airflow.

Get a fine combination of acrylic, cotton, and washable wool.

Always go for something comfortable and long-lasting.

Say no to super tight or extra big clothes.

Avoid clothes made with zippers. It can get stuck in the fur and cause injuries. Yip!

Do not go for clothes having buttons and other glittering objects. Your Pug may try to chew on these and end up choking.  My Pugs like to eat everything!

Always get something washable. Make sure the cloth won't shrink or expand due to machine washing.

Keep your Pug's temperament in mind while choosing accessories and clothes.

Keep off buying any pants for your Pug. It will allow your furball to urinate easily.

I prefer comfort and safety over style and looks.
An important point to remember is that exact measurements are not needed. Your Pug costume can have a 2-3 cm variance. It gives a Pug a little space to get comfortable.
Taking measurements can be tricky if your Pug is naughty. It is recommended to get help from someone. They can hold your Pug while you take measures.
To get the correct chest measurement, we advise you to measure behind the front legs.
This area is used as a general guide for chest measurements.  A Pug doesn't look that great in a baggy Pug costume.
Gently remove your Pug's collar.

Take a soft tape and start measuring the area where your Pugs' collar usually sits.

This area is the general guideline for neck measurements.

Make sure you are not choking your Pug.
Start measuring from your Pug collar.
Stretch the tape until it reaches the bottom of your Pug's tail.
Get your Pug to stand for this measurement.
Measure from the dog collar.
Stretch the tape down towards your Pugs' leg until the tape touches the ground.
Make a circular loop out of your measuring tape at around 35 to 40 cm mark.
Place this loop on top of your Pug's head and observe if it's above the ears and eye lines.
Adjust the loop to get the right fit and take measurements.
Write down these measurements to get the perfect fit every time you shop for Pug costumes.
When Should and Shouldn't Dress Up Pugs in Costumes?
No doubt. Buying Pug costumes is a fun experience for you. A cute outfit enhances your Pug's naturally attractive looks. It also makes him look stylish.
Pug costumes help you protect your four-legged friend from extreme weather conditions. Yet, it's not a good idea to force outfits on your pet all the time. Pugs are our companions. And we are responsible for their happiness.
When is it Ok to Dress Up your Pug in Costumes?
Dressing up your Pug shouldn't be a daily activity. Leave it for special occasions. Plus, every pooch has a different personality. Some dogs are ok with wearing silly and cute costumes. Others might not appreciate it.
Clothes and Pug costumes are necessary if your Pug gets cold quickly. In addition, some dogs need extra clothes to keep themselves warm.
Clothes are essential, especially if you live in a place with extreme weather.  I bought some super nice coats for my Pugs in the winter.  They are very warm.  Unfortunately, once on, my Pugs won't walk.  It defeats the purpose of going for a walk.
If your Pug doesn't need the additional warmth, it may still enjoy getting your attention.
However, it's better to remove the Pug costume if your pet is overheating or uncomfortable.
When is it Not Ok to Dress Up Your Pug in Costumes?
Not every Pug is a "costume fan." Some canines don't like the feeling of clothes. Pugs with thick fur or double coats may overheat. It's better to keep them as "naked" as possible.
Some Pugs are extra sensitive and can get anxious. They may tug any piece of cloth to get rid of it. Sudden attention and lots of touching can easily frighten them. And you don't want a nervously scared baby, right?
If you feel you are pushing a costume on your Pug, leave it. Let your dog decide whether he wants to wear it or not.
Any costume that prevents your Pug from doing his favorite activities is a big NO. Nothing should stop your little fellow from reaching his food or water.
No costume should prevent your dog from moving around and laying down freely.
Remove the costume if your Pug is walking funny. Pugs are distressed when they freeze up and refuse to move. So it's your hint to stop immediately.
Avoid costumes that restrict your Pug from going potty. Such dresses can surprise you with unwanted "accidents."
Don't use a costume that prevents your Pug from communicating with body language. Also, never leave your Pug unattended in a Pug costume.
Best Online Sites to get Pug Costumes
Nowadays, Pug costumes are very in. Endless costume options are available for owners to pick from. As there are so many choices, getting the costume can be a bit hard.
Luckily, we have prepared a list of the five best places to get Pug costumes. Let's have a look at these:
Amazon

Etsy

PetSmart or Petco

Shop Local

Chewy
On top of the list, we have Amazon. This site offers you pretty much everything. You can find every fine costume for your Pug here.
The advantage of Amazon is shopping from home. Also, you can easily access all kinds of costumes with multiple color and size variations.
Every product and item is available at pretty reasonable prices. Amazon offers fast shipping. If you are a member of Amazon Prime, you will get 2-day free shipping.
Here you will find a lot of unique character costumes. Most costume sellers also offer size charts. Follow these size charts to get the perfect fit for your Pug.
Keep in mind there are no try-before-you-buy options available in online shopping. It's better to measure your pup carefully before order placement. Use your Pug measurements and compare them to the size chart.
It's good to have a look at the customer reviews before you place your order. It will help you avoid any shopping disasters. Luckily, Amazon has an easy return policy. So you are likely to get a replacement in few days.
Etsy is another excellent platform for handmade items. This website has some Vintage and unique costumes for your pups. Some sellers even offer custom designs. The price range depends on what you are looking for. It can vary from reasonable to expensive.
Return policies are a bit different here. So make sure you have read the details before getting anything.
PetSmart and Petco are Mega pet stores. These stores are all about pet products. You can get a large variety of costumes here.
Their price ranges are a bit higher. But they offer access to multiple choices. You can even bring your Pug with you. It ensures a perfect fit before making any purchase.
Just make sure you are bringing a well-behaved and trained pup.
Large pet stores will have enough Pug costumes to dress your entire grumble.
Chewy is an online Pet store. This Store has a great variety of Pet products and Pug costumes.
Chewy offers reasonable prices on many products. You can win a fantastic deal here. Your dog won't be able to try before making any purchase. But replacement is possible.
Pro Tip:
Not sure about the size? Order two different sizes. You can always return the wrong fit.
It's good to sport your local pet stores. Local shops help you get a combination of standard and homemade costumes. You can even find some unique options there.
Local shopping offers a personalized service. Price tags can be a bit higher. But you can bring your Pug to get him a costume. Getting a discount is also possible.
Pugs are cuddly and lovable creatures. They look adorable in every situation. Yet, Pug costumes are a great way to show your pup's fashion sense.
However, your first concern should be your four-legged friend's comfort. Making them dress in an uncomfortable dress may get you some likes. But the sensitive fellow will know that you prefer your fun over his comfort. Dressing up a Pug is fun. But always remember, safety first!
Think about your pup's wellbeing. If the furball is comfortable, there is no reason to avoid a Pug costume. Otherwise, do not force clothes on your Pug.
Always offer your Pug comfortable costumes. Keep his happiness and protection in mind. And let him be the best well-dressed Pug in town.